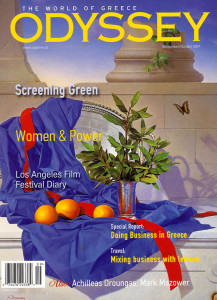 Alexia Melocchi runs Little Studio Films one of the hottest small shops in Hollywood. The product of an Italian father and a Greek mother, she is on the board of the Los Angeles Greek Film Festival, a regular on the Hollywood social scene and an emerging power broker on the verge of huge success. Savas Abadsidis sat down with Alexia for a quick chat for Odyssey.
O: What was your childhood like? Tell me about what your mother and father and how they met.
My mother and father met in London, England. My Greek mother was attending a private finishing school where she was introduced as a Debutante at the Ball for Queen Charlotte. My Italian father was doing an internship in an advertising agency. When I was exactly one month old my parents brought me to Greece and from that day, I have spend all my childhood Summers and Easter Holidays and Christmas Holidays in Greece. My Grandmother had a home in Kalamaki (near Paleo Faleron by the Coast of Attiki right outside of Athens) and my Grandfather had a home in Paleo Faliron. I was raised by a Greek nanny thus I was privileged to learn to speak Greek at the same time as I learned English. When I was in school in Italy I would have a calendar and x mark each day until my next departure to Greece. All my life I felt more Greek than Italian. I loved the food, the hospitality, the music, the Aegean Sea and the unique light that blanketed all of Greece in the summer. In spite of the fact that my Greek childhood friends affectionately teased me with the saying "Italiano makaruna pente pente stin piruna" which means pasta eating Italian five out of five in the big fork, at the same time they would say to me "UNA FATZA UNA RATZA", one face one race, given that Italians and Greeks had a special cultural bond.
As child I saw a lot of the Greek islands. My mom's Greek friends who she had studied with in England had boats and we would sail every weekend.
When did you move to the US?
I was 15 years old.
Where did you grow up and what was it like?
I grew up in Milan Italy but my heart was in Greece. Milan is a very cold city, weather wise and its people. The more you go south in Italy the more open the people become. I am convinced it has to do with the Greeks occupying Southern Italy and Sicily way back when.
What ignited your passion in films?
My favorite movies growing up where the movies of FINOS FILMS…My summer nights evolved around what was playing on Greek Television. If any Aliki Bouyouklaki movie was on, I was there to watch it. She reminded me of Brigitte Bardot but with a Disney Film innocence. I loved also watching old musicals especially for the music, dancing and fantastic clothes. As I got older (in my teens) and was allowed to go out later in the night I spent many nights in the open movie theatres, under a starry sky, eating passatembo and watching the classic blockbuster Hollywood films of the 80s such as ET, Grease, Mary Poppins, Close Encounters of a Third Kind etc. I wanted to be part of that process. I was not sure how I was going to accomplish that but I had set my mind that I would make it happen. And when I got my first job as an interpreter at the age of 18 for an Italian distributor who was in America to buy movies for distribution in Italy and attended my first American Film Market finally a door opened for me to get into this world.
What's your favorite movie?
Most of my favorites are not of the past couple of years. CINEMA PARADISO, MEDITERRANEO, GONE WITH THE WIND, OUT OF AFRICA, ET, GREASE…. I can't pick one as you can imagine. My DVD collection is pretty varied. If the story is good and I learn something from it, I will become a fan.
You're friends with Marina Sirtis, of Star Trek: The Next Generation Fame… are you a Trekker? Have you ever attended a convention with her?
I got to meet Marina through a close friend of mine, Lady Ann Turkel, who was married to Sir Richard Harris and who I hear was a Supermodel in the 70s. Marina is a wonderful actress and human being. I would not call myself a Trekker but definitely a fan of the Franchise. I went to my first COMIC CON last year and I could not wait to get home. I was completely overwhelmed by the crowds of people in costume, including the Trekkies.
You work closely with your mother; tell me about that and how you think your Hellenic heritage plays a part.
I love working with my mother. We have been business partners since 1989 when we started our International Film Distribution business. I was barely twenty years old. My mother represents all that is the best of Greece- her kindness, generosity, sophistication, sunny disposition, visionary yet grounded outlook in life and business. When we go to Business meetings and we do not anyone to understand us we speak more in Greek than we do Italian. And interestingly enough, though a family business, we are being treated more like sisters or best friends than a mother/daughter team. Both of us shine in our own areas of expertise and have different sets of skills.
In what ways do you think film can help link the Hellenic Diaspora especially as it fractures over the generations? What do you think is the thread that unites us?
With the success of MY BIG FAT GREEK WEDDING or even a classic like MOONSTRUCK (about Italian families) it was evident that all Immigrants shared the love for family, the struggle to build a new life in a foreign country, the need to hold on to our roots and cultural customs but at the same time sharing a curiosity and sense of wonder for other people's cultures and customs.
It will be important however to "think outside the box" with future films that deal with anything Hellenic in order not to fall into clichés. I believe Greeks are evolving and we need to celebrate that in them and the mark the current generation is making in the world. Greece is not just about ancient Greece.
What do you think Greeks have brought to Hollywood that is unique?
Their love of story telling and belief in the human spirit plus a unique approach to business that goes beyond the customary "hard core" attitudes used in Hollywood.
How would you compare Los Angeles to Athens?
The good weather! Two very different cities though I have noticed that Los Angeles lately seems to run on "Greek Time"…. dinners are scheduled later, people stay outdoors in cafes for several hours especially during the summer afternoons, lunches run longer, it truly feels like kefi (fun) is becoming something to experience on a daily basis in whichever way we can.
What project are you the most passionate about right now?
I am working on an epic level film called AMERICANA which tells the story (true) of 100,000 Confederates who moved to Brazil in search for a better life and to continue the tradition of the "Old South" minus the slavery. It's GLORY meets Y TU MAMA TAMBIEN. We are not showing it to directors. I am also working on an 80s' themed teenage comedy STALKING SIMON LE BON to be directed by Jim Fall who did the Lizzie Mc Guire movie and an Italian Mob movie called WAGES OF SIN that a client of mine will be directing and co produced with the Producer of the mini series ROME.
The economy is tough. How has this affected your role as a producer, in raising money, and what would you say is the strongest argument for not abandoning small films at a time like this?
I like to make "small films" with the "Studio model" in mind. It's the only way to survive. Tell great stories, preferably uplifting and that people connect to on a human level, have a marketing plan behind them, and make them look like a Studio Film in terms of production quality and visuals. The economy is tough indeed however do not forget that in times of recession or depression my Greek Grandfather, Nicky Yacovlef used to say that two things will always do well: FOOD AND ENTERTAINMENT. I consider my self lucky to be part of one of these two categories. No matter how tough things are people always want to escape from their problems by seeing a good movie or eating in a nice place with good company.