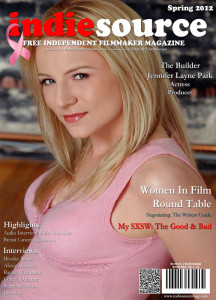 ISM: How did you get your start in the entertainment industry?
Alexia Melocchi: I started in the entertainment industry while a Senior in High School. I am fluent in six languages and was hired to be a translator for several theatrical distributors when they would come to the U.S. to buy rights for American movies for release in their territories. They ended up hiring me for their U.S. office for their acquisition needs, and by the age of 20 I was representing 12 distributors in the major theatrical territories, going to all the film and TV markets. This was invaluable in learning about market trends, how strong the foreign marketplace is and how it affects film financing and its success. I then opened up my own sales company with my partner Alexandra Yacovlef who came from the finance world, and was also representing buyers and consulting for the Studios. We sold dozens of American films to the world and became involved in films from the early stages, anywhere from casting to the final distribution efforts.
ISM: During your career you have per-formed duties as an Executive Producer, Producer and Casting Director. Which do you find the most difficult and why?
Alexia Melocchi: To be clear, the Casting Director role is something I took on because I felt I had a better eye for talent than most casting directors I had met with, and I knew the actors / actresses that would work for the distribution of the films I was producing. So it was born out of me, being a bit of a control freak, and to save money to the production. Producing is by far the most difficult role, yet the most rewarding at the same time. People often think that the producers are like used car salesmen, going out to solicit funding, and that's the most wrong view one can have. A producer needs to know how to spot the right material and assemble the right team players for the material in all areas (finance, casting, distribution), and then put his/her blood, sweat and tears to see a film through; taking the biggest risk and time investment in the process, putting his / her reputation on the line, with no guarantee of success, or how long it will take for a film to happen. Producers are grossly underpaid. If you spread out a producer fee with the time he/she is putting into a film until it is done, it is probably lower than minimum wage. I wish writers would appreciate that when trying to get their materials sold and optioned.
ISM: When was Little Studio Films (LSF) started?
Alexia Melocchi: LSF started in 2000 as a partnership between myself and Alexandra Yacovlef, who happens to be my mother, and was also my partner in our sales company AXELIA INTERNATIONAL PICTURES. It was meant to become a connector between U.S. companies and talent with international players and vice versa while consulting for and representing media companies and producers, and building a boutique literary management division. We were and still are probably one of the rare mother/daughter teams in the entertainment industry who actually get along and bring different skills to the table. Alexandra is the studio person, with an amazing background in finance, as she consults for Wall Street firms and distribution. She is very tough, and likes to get behind the bigger films. I am the Indie person, who likes to nurture the talent of the future, and to assemble the marketing team and production partners.
ISM: What is LSF's main focus?
Alexia Melocchi: While We built a strong, yet boutique management division, but our main focus is to consult for producers, talent, media and Wall Street Companies on exciting business ventures and projects, offering our expertise, international background and connections to our clients. We have an emphasis on packaging and distribution, and building strategic alliances between creative minded and business minded individuals. As a result, we become attached to selected projects as executive producers or producers, being a natural evolution of our consulting or representation endeavors. It's very exciting, and we feel we are unique in our business approach, as we also can cross language and cultural boundaries.
ISM: Could you tell us about your LSF 2012 and 2013 film slate?
Alexia Melocchi: We have our hands full in a very diverse slate that has proven international appeal and distribution interest; ranging from high quality indie fare, to tent-pole films, to multimedia properties that can be spun off into video games, comic books or branded. We are starting preproduction now on the U.S. feature remake of "Ice Scream", Italy's most successful short ever, which garnered several awards while airing on MTV Europe and released on U.S. iTunes, which is rare for a short in a foreign language. It also has a social following that got the attention of magazines like Fangoria and Interview magazine. The film makers Vito Palumbo and Roberto De Feo are our clients, and we hope it will follow the path of "Paranormal Activity" and such, but with a cutting edge plot and style that is not supernatural or plain horror. We also are out to directors with Valerio Manfredi's international best seller book "Pharaoh", which is a contemporary Indiana Jones style action adventure franchise and a thriller called "Bustin Palermo", which was developed with producer Marty Katz of "Reindeer Games" and "The Four Feathers", and written by our client Anne M. Brauer. Marty is now shopping it to the studios, and we are working on bringing international partners.
ISM: How do you approach developing projects with writers?
Alexia Melocchi: When we develop projects with writers it is because we have been asked to initially on board as consulting producers by the writers and the film makers themselves, or the producers involved. We have a very unique approach to strengthening the material, including testing it with major theatrical distributors and evaluating if it's "package able" or not. Nowadays it is no longer about how good a script is, it is so much more. There are thousands of good scripts out there and hungry writers, so the supply far exceeds the demand, and therefore we always have to find that "angle" which will make the script pop and stand out for either us or someone else to wants to be involved. We also like to work with our represented writers, who are like family to us, where the relationship and collaboration tactic has been tried and tested, and our development involvement is done with the purpose of taking them to the next level for career longevity.
ISM: Could you tell us about the Comedy/Drama "Stealing Roses" that you produced?
Alexia Melocchi: "Stealing Roses" was pitched to us by its writer/director Megan Johnson at a Writer's Conference organized by The Sherwood Oaks Screenwriting Group. The writer/ director had raised some capital for it and wanted our expertise in distribution and casting, while utilizing our relationships with talent by bringing us on board to produce and consult her on the global distribution. We ended up doing so much more, and actually followed and set up the physical production of the film as we felt Megan Johnson had an important and socially relevant story to tell. We could get much more for this production in terms of exposure by going with a bigger cast and using our relationships for assembling the right crew despite the lower than average budget for this type of property. What instantly made me say YES was the heart behind the story; about a couple who has been married for decades and now they are poor and they do not have health insurance. The husband will go to great lengths to save his wife from the illness she suffers, while also struggling to get her the treatment needed without insurance. But it's all told in a "Little Miss Sunshine" style, there is laughter, and it's not in your face politically speaking. Yes we wanted to bring awareness to the lack of proper health insurance in America, but we also wanted to talk about love and family values.
ISM: You are currently in preproduction on a $12 million feature film titled, "A Noble Lie". What exactly is this period thriller about?
Alexia Melocchi: It's a very unique story that was written by our client AJ Ferrara, and it is rooted in some truth about the first UFO sightings and the political cover ups behind them back in the days when Eisenhower was President. It is not your typical alien sci-fi movie, but more of a government conspiracy thriller with an intelligent twist a' la X Files that raises some questions, but hopefully takes you for a ride. We are thrilled that we replaced the director and attached Mick Garris to direct it, who just came from the "Bag of Bones" miniseries with Pierce Brosnan for A&E, and who has an amazing body of work in the thriller / horror genre.
ISM: How hard is it in today's climate for independent producers to raise capital for their projects?
Alexia Melocchi: It is definitely next to impossible without development finance and a strong marketing and distribution model. Producers nowadays have to have experience and connections in every aspect of the business, as no studio or sales company finances without packaging and distribution, and private investors are getting savvier when it comes to putting their money in movies. They no longer buy the standard cookie cutter business plan. They want facts, figures and professionals as part of the production team. But in hard times everyone loves the movies, so I believe that these hard economic times are just going to act as a cleanser and make room for the hungry and excited producers who want to be around long term and serve as a wake-up call for the older more established producers to think outside of the box and not rest on their laurels based on previous box office hits. A producer never sleeps.
ISM: The view in Hollywood is that minority driven feature films, especially Hispanic and African American stories do not sell well overseas. Do you see this as true?
Alexia Melocchi: Sadly it is true. The foreign market seems to be more attracted to Asian produced films, as they are in general very visual or cutting edge in the genre department, than Hispanic or African American films. However, if the story is compelling and relevant enough that those boundaries vanish, case in point, "The Help".
ISM: Any advice you would give to aspiring producers?
Alexia Melocchi: Get a great team together creatively and on the business front. Never attempt to produce without development money. Pay the people that deserve to be paid and will help you get your project some traction. Learn about the foreign marketplace, as well as the distribution and release quotas in each country. Think outside of the box from a marketing stand point (please do not heed always the example of previous hits, as they can rarely be replicated), and have a great script that you have tested and feel it's ready to market.
Interview by: Denise Smith