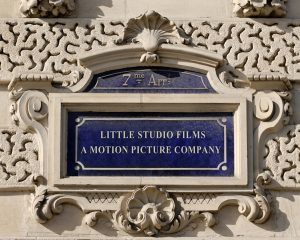 DEVELOPMENT PRODUCTION AND DISTRIBUTION SERVICES
When associating with LITTLE STUDIO FILMS, and its partners Alexia Melocchi and Alexandra Yacovlef as your consultants, you the prospective Client agree and believe that advancement of any Project or venture is all about opening the right door and understands the power of a direct connection to a decision maker.
We are an international consulting group with established associates in key International territories, fluent in several foreign languages, who are experts at opening doors at strategic levels.

When you hire or retain LITTLE STUDIO FILMS as your consultant, whether you are producers, a production company or talent , you receive guidance, expert advice and hands on actual assistance to develop intellectual property from concept through finished content and beyond. Because of our stellar reputation and expertise spanning over 25 years in the Industry, 70% of our work comes through recommendation.
We are in continuous contact with Indies, Broadcasters, Sales Agents, Financiers, Talent Agents, Distributors , Media Companies, Networks and Producers around the world. We are always informed of Industry trends, who is looking for what and when,  making international collaborations work for the client, and bringing to the table a Team of Professionals who know where to make and how to  finish and market a movie or television show.
Our services include but are not limited to:
Script Coverage and Story Notes and overall evaluation of screenplay viability for production and development.
Promotion of marketplace specific projects and screenplays at Major Film and Television Markets. (Cannes, American Film Market, LA Screenings, Film Festivals, Berlinale).
Production of sizzle reels and pitch decks for Reality and other Television projects.
Advice and Compilation of Cast and Director Wish Lists for consideration in Talent Attachments based on global appeal.
Advice on Financing.
Advice on Distribution.
Advice on Co Productions.
Advice on Production.
Review of Business Plans and International Sales estimates based on current marketplace.
Introduction of films in pre- production, production or post production to Distributors (domestic and foreign) as a Producer Representative.
Consultations with third Party financiers or investors on behalf of client.
For specific rates and further information on the areas we operate in, and to find out what could be the better benefit to you or for your project/s, send us an email outlining your specific needs and questions.