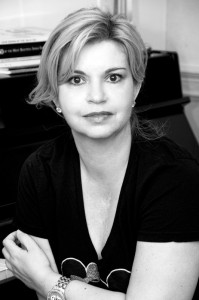 Alexia Melocchi   is an accomplished entertainment industry professional with a long proven track record of success within both the domestic and international arenas. A vital contributor to the LITTLE STUDIO FILMS brand, Alexia Melocchi 's footing in the Entertainment Industry began in the international marketplace in the 1990s, as both a sales agent and buyer's representative for eleven theatrical distributors. As a consultant she currently uses her professional relationships and expertise in screenplay development, film and television IP packaging, securing co- productions and arranging for US and International Distribution for her clients.  A regular participant at  most major Film and Television markets as well as Festivals around the world, Alexia Melocchi still pursues  international acquisitions and uses a global film marketing approach for the Projects of her Clients as well as the films she is producing under the Little Studio Films banner. During her tenure as a Sales Agent she sold more than 50 movies to profit on behalf of her producer clients, and acquired more than 150 major Studio and Independent films on behalf of the Distributors she has ongoing relationships in Italy, Greece, Latin America, Spain, France, CIS and the Middle East. She is currently handling  some territorial sales for  "UNSTAGED", the Duran Duran live concert film directed by David Lynch, "SERVICE TO MAN"  co produced by Joel Zwick, released in the US by Entertainment Studios, and the Puerto Rico award winning film "SOL DE MEDIANOCHE" starring Latin Grammy winner Pedro Capo, currently airing on HBO.
Alexia  Melocchi has several corporate clients such as Food Network star Chef Penny Davidi, Hane Saga Storytelling Conference, EcoFlix,  the Italian Television Festival, The Eden Magazine have most recently joined her client list.
As a Producer she  worked on STEALING ROSES, starring John Heard, Bruce Davison, Cindy Williams , the Puerto Rico  feature   "Beach Love" directed by Carola Hawk, starring Lorenzo Henrie, "SERVICE TO MAN"  produced by Joel Zwick and the inspirational documentary on female empowerment "QUEST FOR BEAUTY".  Currently she is in post production as an executive producer for "THE PANTANI AFFAIR".
Through LITTLE STUDIO FILMS, she is currently attached in a producer capacity to several projects including "CAMELOT'S COUSIN" starring Blair Underwood, based on the best selling novel by David R. Stokes,  "THE BALL PLAYER" a biopic of NY Yankees Pro Baseball Star Joe Pepitone, the action adventure "GALLEON" , in partnership with Marty Katz Productions to be directed by Eric Brevig,  "WRECKAGE" starring Cam Gigandet and "SALVATION CHRISTMAS" starring Maeve Quinlan.  In the Television arena she has been producing sizzle reels for several Reality projects and is preparing a slate of high profile series and mini series.
Recently she has joined the Board of Directors of THE EDEN MAGAZINE where she regularly contributes with a monthly column and celebrity interviews and is the newly elected President of DIVE , a non profit organization of Italian Women living abroad.
Alexia Melocchi is fluent in French, Greek, Italian and Spanish and is also an Advisory Board Member of the Los Angeles Greek Film Festival . She is frequently invited as an expert Panelist on the Global Entertainment Industry. She was invited to discuss her expertise at SEE FEST, the LOS ANGELES GREEK FILM FESTIVAL,the NORTH HOLLYWOOD CINEFEST, two consecutive CANNES FILM FESTIVAL panels (hosted by the PGA and the Producers Network) and WOMEN IN ENTERTAINMENT. Melocchi is also a Council Member for  the Gerson Lehrman Group in New York and a Screenwriting Mentor for the Film Connection School. She also gives webinars on the International Film Industry  and writes monthly blogs on STAGE 32.