This article by Valerio Viale was originally published here: www.italoamericano.org
---
Alexia Melocchi, native of Milan, Italy, spent her teenage years in Los Angeles and, at a very young age, crossed the gateway to Hollywood.
Since around the year 2000, she has been holding the doors to the US market open, by actively championing European, and especially Italian, talented filmmakers and helping them express their creative voice in Hollywood.
Her family-run company, Little Studio Films, revamps the old business model, adopted by movie studios in the 20s, 30s, and 40s, in which filmmakers, screenwriters and actors used to be under contract and work in-house.
If you currently live in L.A. and you are able to enjoy a new Italian gem on TV or at the movie theater, very likely Alexia Melocchi was the one to unearth it.
Please, introduce yourself. Tell us more about your Italian origins as well as your upbringing in the US and your beginnings in the movie industry.
I was born in Milan, Italy, but I moved to Los Angeles along with my family, in the late 80s. After completing high school here, at 18, I started working in the movie industry.
Speaking six languages helped me starting out in the distribution side of the business, selling the rights for US films internationally. Over the years, I attended all the major film markets, Cannes, MIFED (the no longer existing film market in Milan), Berlin and Sundance. Altogether, I sold over thirty movies, mostly American.
Around the year 2000, sensing how, despite US agencies and management companies regularly worked with international filmmakers, the cultural bridge between international talent and Hollywood had not been crossed yet, I embraced the opportunity to discover European, particularly Italian, talented filmmakers, screenwriters and authors, thus working toward filling that gap.
Our company, in conjunction with Italy's international film distributor Intramovies, was key in securing US distribution in 2000 for But Forever in My Mind (Come te nessuno mai), one of the earliest movies by Gabriele Muccino.
In that same year, we also worked at the Golden Globe nomination campaign for Marco Tullio Giordana's, One Hundred Steps (I cento passi).
The first client, under my representation, was Italian bestselling author, Valerio Massimo Manfredi, whose trilogy of novels on Alexander the Great is well-known worldwide. On his behalf, I sold the rights of one of his novels, The Last Legion, to the Weinstein Company for the Hollywood adaptation of the same name, released in 2007.
Gradually, I became the go-to person for any Italian director, screenwriter, author, seeking international visibility, before expanding to talent from European countries, the likes of Greece and Spain.
As I started helping young Italian filmmakers have their passion projects go into US production, I turned into a producer myself.
The first Italian young directors, whom I discovered, were Roberto De Feo and Vito Palumbo, from Puglia, Italy. In 2009, they had co-directed the short film, Ice Scream, recipient of many awards.
Indeed, I met them in occasion of one of those award ceremonies, at the Beverly Hills Film Festival. They asked me to watch their work and to facilitate their career in the US.
I loved the short and the way it dealt with the current theme of bullying and suggested them to remake it as a US feature film. It turned out to be the first Italian short to be made as a North American movie.
From your professional experience, how would you define the main tasks of a sales agent?
I started out in the movie business as a sales agent, whose main task is to pick up several movies with good distribution potential and try to sell those worldwide to TV networks, theatrical chains and DVD distributors.
Today, it's extremely difficult to have a financial return from distribution, especially in the case of foreign films, unless they win major international film festivals.
It may be hard for North American movies as well, because at major film markets, the likes of Santa Monica's American Film Market (AFM), the large number of movies, represented by each company, are treated like commodities in a supermarket.
My approach is different, because I dedicate my full attention to directors, producers, screenwriters, whose works have potential. I help them all the way through, acting for them also as a sales agent.
As a distributor or sales agent, you always look for a long term relationship with the filmmakers, above and beyond selling their single projects at hand.
Our formula, as expressed by our company's name, Little Studio Films, resembles the in-house business model, employed by the Hollywood studios in the 20s, 30s, and 40s. Back then, actors, filmmakers and screenwriters were kept under contract and considered part of a big family.
Little Studio Films operates similarly, helping filmmakers in every aspect of the process, from casting and preproduction to production and distribution, including festival exposure.
I mostly pick up films by Italian, or European, filmmakers, because they are the ones who need the greater help.
Could you elaborate on the Italian films you represented at the 2016 AFM in Santa Monica?
One of them was American Fango by Gabriele Altobelli, a director from Rome. The finished film, shot between Rome, Los Angeles and New York, was produced independently.
Initially, the Italian filmmaker needed a song for his movie and asked me to put him in contact with a jazz singer, whom I knew well. Eventually, I watched Gabriele's film, I really liked it and decided to sell it internationally.
I also represented two films, still in development, by the Italian duo Marco Ristori and Luca Boni, filmmakers/producers from Tuscany. The first is an action/thriller with a US production and cast, titled Bustin' Palermo. The second, Purgatory, is going to be a bigger scale adaptation of an Italian fantasy graphic novel.
Lastly, I'm partnering on a couple of Italian projects with Italy's film company, Filmexport Group, based in Rome.
You're also producing Halloweed, a comedy-horror based on a story you've written. How did you come up with the idea for it?
I came up with the idea together with a producer friend of mine, who used to work for Graham King, professional with many producing credits under his belt, including Gangs of New York, The Departed (for which he won the Oscar), and Argo.
We were just having a funny conversation about the explosion of the marijuana industry in the US and had the idea of telling the story of teenagers who smoke weed during Halloween and, suddenly, turn into their costumes.
We developed the story and, then, hired Nick Montalvo, one of the screenwriters in my roster, to write the screenplay.
Again in-house, I hired as directors the above mentioned duo, Marco Ristori and Luca Boni, who had notched up seven movies in the horror genre, successfully distributed both in the States and Italy.
Let's delve deeper into your activity as screenwriting consultant and mentor.
On the one hand, I've been mentoring students one-on-one on screenwriting at the Film Connection Film School, in Hollywood. I love working with young, emerging screenwriters and putting my practical expertise at their disposal.
On the other hand, it often happens that international screenwriters, who sometimes lack even the basics of proper formatting, seek my guidance to learn how to write in the American way. In fact, the European style of writing is far apart from the Hollywood standard.
I've started analyzing their scripts and giving notes, almost as a hobby. By word of mouth, more and more screenwriters from Europe have been reaching out to me. However, I'm very selective in terms of choosing what screenplays are truly going to benefit from my suggestions.
Whenever I like a concept, or a specific writing style impresses me, and I can envision the final film, I take the screenwriter under my wing.
In conclusion, are you in contact with L.A.'s Italian-American community?
I work very closely with the ICE (Italian Trade Commission). Last year, for instance, I was invited as a movie industry representative, to take part to Cinema Italy – Miami Italian Film Festival.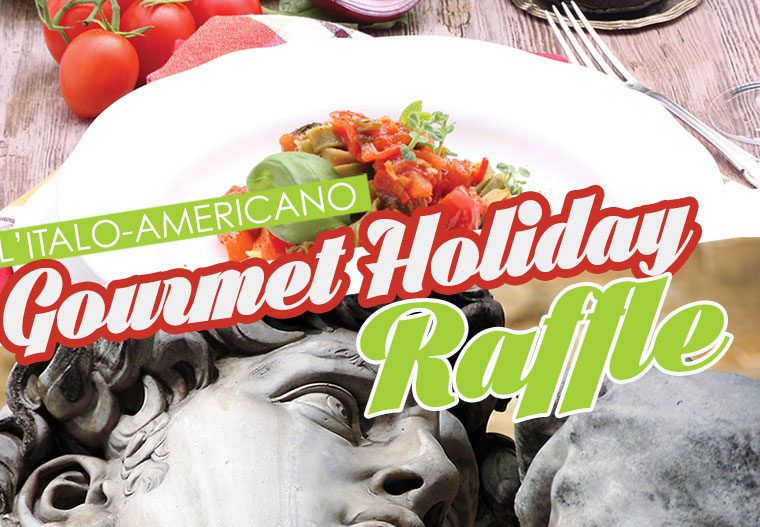 I love to collaborate with ICE, as well as with the Italian Cultural Institute and the Consulate General of Italy, in Los Angeles.
Support L'Italo-Americano Foundation through its fundraising efforts that allow us to promote and preserve the Italian culture and heritage in the US. Enter to win fantastic prizes Including a vacation in Florence. (20% will be donated to the "I Love Norcia" association to support the reconstruction of the town, dramatically hit by the recent earthquake).